Wishlist
Built-in wishlist
WoodMart has a wishlist feature that allows your customers to save products they would like to buy in their accounts and share them with friends. It is one of the main functions of any online store that boosts conversion. The Wishlist feature is enabled by switching it on in the Theme Settings – > Shop -> Wishlist
Wishlist page
The next step is the Wishlist page, which is created separately in Dashboard – > Pages. As soon as the page has been created it is necessary to add the Wishlist element from the WPBakery Page builder or Elementor chart.
The final step is a configuration of the Wishlist page: navigate to Theme Settings – > Shop -> Wishlist -> Select a page for the Wishlist page.
You need also to enter Dashboard -> settings -> Permalinks and press "Save".
In order to show the Wishlist icon in the Header, navigate to WoodMart -> Header Builder -> add the Wishlist element to the Header.
Multiple wishlists
The "Multiple wishlists" feature allows the customers to create multiple wishlists to categories their favorite products according to their convenience. The customer can create an unlimited number of wishlists for future events. For example, one list for holiday presents, one for regular purchases, one for sports equipment, etc. And can share it with friends and family also through Facebook, Twitter, Pinterest, and Telegram.
In order to enable this feature, navigate to Theme Settings -> Shop -> Wishlist -> Enable multiple wishlists.
The "Show wishlists popup" option gives you the opportunity to choose exactly to which Wishlist the product will be added or create a new Wishlist for the added product directly through the pop-up window.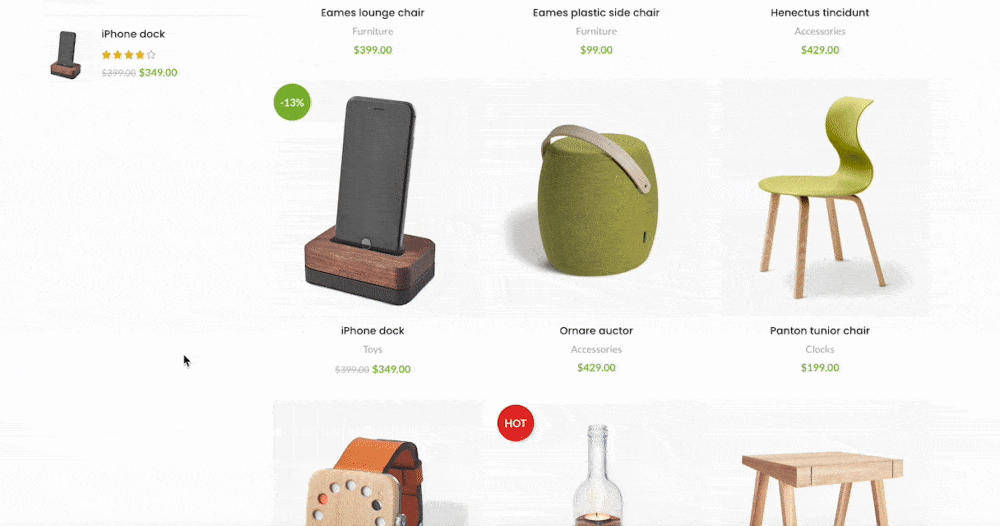 Note that the "Multiple wishlists" feature is available only for logged-in users.
The admin can see all wishlists created by each customer of the website via Dashboard -> Products -> Wishlists.
Once the admin directly clicks on the customer's wishlist, it will redirect him to the list of the wishlist of that particular customer.
In the "Popular products" tab you can see products that are most frequently added to your customers wishlists.